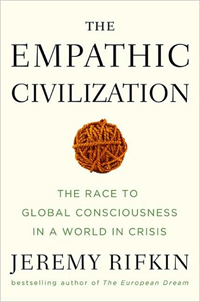 We need to implement reglobalization from the bottom-up in order to achieve a more sustainable global economy. Geopolitics is an extension of the Enlightenment view of human nature, the idea that we pursue our utilitarian pleasures and individual self-interests. In geopolitics, the nation-state becomes a macro view of that. Nations deal with nations by being rational, detached and calculating, pursuing self-interests, excercising power and acquiring more capital and wealth. That's why Copenhagen failed. The world leaders weren't thinking biosphere, they were thinking geopolitics. Everyone was looking out for their nation's self-interest.
What we need to do is attempt biosphere politics. Governing units are going to change–I think there's going to be a shift toward continentalization. The EU is a first attempt at organizing a new frame of reference across continents, but it's a transitional governing form. The Asian Union, African Union and South American Union are in their early stages.
Source: New Scientist.