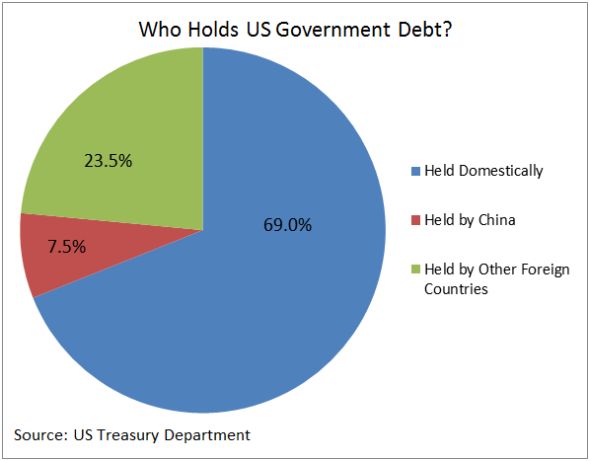 The global economic "race-to-the-bottom" game draws to an end:
The dollar's share of China's huge cache of currency reserves has been slashed to a record low, the Wall Street Journal reports, to which it adds the world hasn't ended as a result.
But more recent data showing outright sales of U.S. securities by China suggests a less cavalier attitude would be in order. It isn't the end of the world, just a portent of what can happen when the biggest buyer of America's biggest export — its IOUs denominated in dollars — stops buying.
That would leave the Federal Reserve as lender of last resort to the U.S. government to fill the gap left by its biggest creditor. Think this Zimbabwe style of central-bank monetization of an unsustainable government debt can't happen in one of the world's major industrialized democracies? Well, it may be starting in Japan.
According to the Journal's crunching of the numbers, dollar assets comprised 54% of Beijing's $3 trillion-plus reserves as of last June 30, down from 74% as recently as the end of 2006. That's based on data on China's foreign-exchange reserves and the U.S. Treasury's latest survey international holdings of U.S. securities. Those numbers show an outright increase in China's holdings of U.S. securities, by $115 billion in the latest 12 months, to $1.726 trillion.
Beijing has made no secret of its desire to diversify from greenback assets — mainly U.S. Treasuries — and for the establishment of another reserve currency to use as a store of wealth and for international transactions. The European sovereign debt crisis has reduced the allure of the euro for those purposes. While Beijing has voiced limited support for the various schemes to ease Europe's woes, it has added to its holdings of other, smaller currencies, such as the Australian dollar.
But more recent Treasury data show China has been selling Treasuries outright. And while the markets have been complacent to the point of snarkiness, MacroMavens' Stephanie Pomboy thinks that's wrong. Unlike other Cassandras, she's been right in her warnings — notably in the middle of the last decade that the U.S. financial system was dangerously exposed to a bubble in U.S. real estate. Hers was a lonely voice then because everybody knew, of course, house prices always rose.